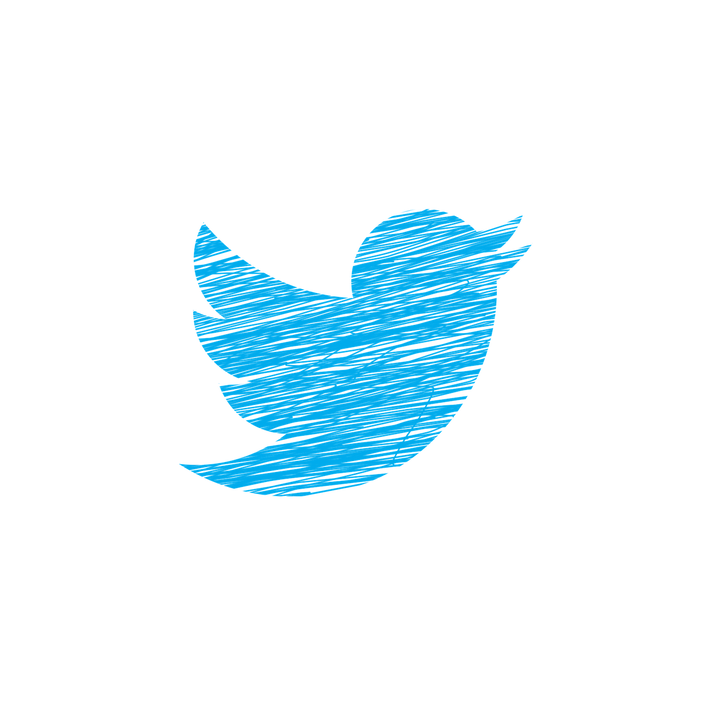 Twitter Personal branding, Marketing, and Profits (PIMPS)
Skyrocket your Twitter growth, build your personal brand, form powerful relationships, and earn a serious income for being yourself (even with no experience!)
Enroll in Course
Have you ever wondered how certain people on Twitter seem to be gaining thousands of followers per month?

Or how they get so many people to engage with every single one of their tweets?
Or how they're earning so much damn money from their account, even without having 10,000s of followers?
Look,
We were there before too.
Both of us started off in your shoes.
Both of us started from 0 on this platform, and we initially struggled to grow.
To be seen. To be heard.
Both of us were trying to make a name for ourselves online, but barely anyone gave a damn about what we had to say.
But with time, the way we used this platform changed our lives.
Take Ed Latimore, a former heavyweight boxer who started a Twitter account just to get his name and ideas out there. Over the course of many years, he went from 0 to over 75,000 followers and has connected with CEOs, world leaders, athletes, actors, and "ordinary" people with extraordinary talent.
Or Sean Luger, who knew that his career in healthcare was rewarding as hell, but got absolutely fed up with the hellishly PC workplace and lifestyle of working for other people.
He wanted to put his ideas out there, so he started a men's self improvement blog called Western Mastery. But he also wanted a better lifestyle for himself with greater meaning. Through the connections he made utilizing Twitter like a pro, he now owns a very successful online physical product business and has multiplied his former income working on his own watch.
The network that both of us developed on Twitter has enabled us to make these life changing moves.
But the truth is at first - we didn't know what the hell we were doing.
We couldn't grow on the Twitter platform, we didn't know how to network effectively, we had no idea how to sell our services or create a digital product that would make us money while we sleep.
But with time - we grew. Both personally, and on and off the platform.
As we grew and started to master the platform, we noticed that other talented individuals had no idea how to use Twitter.
Talented individuals who either had a skill they could use to make a name and a living for themselves...
Or ones that could easily learn the right skill to do to exactly that.
That's what we're here to teach you.
So if you're trying to become bigger on Twitter but you're absolutely clueless on how to grow your account...
Or if you've grown your account a bit but you're trying to grow more - but every day has become a grind and you're only getting a few followers a day max...
Or you know your knowledge is valuable and your tweets are solid… but you can't seem to find the "missing ingredient" to this Twitter thing…
Or you've seen others achieving exactly what you want, but they BLEW past you - thousands of followers in a few months...

Shoutouts from big accounts, making thousands of dollars from their accounts, and achieving everything you wanted way before you, while you're left in the dust.
Or if you want to make money on the internet for doing what you already know how to do, but you have no idea how or what to sell...

You're in the right place!
Why go through all that frustration when you have the answer in front of you?
Imagine if instead of having these problems, you now had an account full of loyal followers who love your content and will gladly pay for anything you put out.
If you can visualize this, keep reading, because this course is exactly what you're looking for.

Twitter Personal branding, Marketing, and Profits (PIMPS) is the most complete resource on how to network, grow, and make real money from your Twitter account.
Why?

Simply put - you'll receive expert advice two of the best minds on the self-improvement side of Twitter.
Ed Latimore, professional boxer, physics master, chess player, and hands down the most successful personal brand on the self-improvement side of Twitter...

And Sean Luger, expert that has helped hundreds of men grow and make a name for themselves online and earn money for their skills.
Combine to create the most complete how-to guide on growing, monetizing, and networking with Twitter ever created.
So what does this mean for you?
If you learn and apply all the material in this course, you results will look something like this...
Instead of wasting months - perhaps years - of your life not knowing how to grow your account....You will know exactly how to make a Twitter account that grows quickly and gains respect within your niche.
Instead of wondering how - and what - you can sell to your audience, you'll know what to sell and have a proven blueprint to sell it.
Instead of being a nobody, you'll position yourself to be a somebody.
Instead of being ignored on the platform, you'll be heard. Respected. And you'll be someone who has great influence on the thinking and the discussion around you.
Instead of struggling to make money from your account, you'll learn proven, timeless methods on how to make significant money for your name and your skills. You'll actually make at least a part time, but (if you follow the principles thoroughly) at least a full time income for what you know how to do.
Instead of having an account that has stagnant growth, you'll have a proven formula on how to consistently grow, meet new people, and find new life-long customers for any product or service you ever sell.
Instead of struggling to network, you'll have a timeless method that teaches you how to network both on and off the Twitter platform to develop powerful, profitable relationships that will last you your entire lifetime. You can literally create a 7-8 figure business network from the networking skills in this course!
Instead of being clueless on how to make money online, you will be taught the high income skills that are proven to make you 6 figures online in a year or less - no bullshit - that can be leveraged both on and off Twitter in multiple ways to make even more money.
Instead of being clueless on how to use the Twitter platform, you will have a high income skillset - social media marketing with Twitter - that you can use to create a successful business, and/or sell to companies to earn a full-time income from.
Does all of this sound too good to be true?
Good!
Because after all, those are some big ass claims.
And we encourage skepticism, and we know this course is NOT for everyone.
So let's tell you who it's not for:
If you expect the world to be handed to you for free, this is NOT for you.
If you expect this to be a "get rich quick" scheme, this is NOT for you.
If you're the type who just likes to read information and not apply anything, this course is NOT for you.
Twitter PIMPS makes it as simple as possible to grow, and earn on this platform, and it can happen quickly, EVEN if you have little experience, but you have to use the course and put in the work.
So to help decide for yourself...
And to show you that we are NOT full of shit...
Look at what students have said of our past products, Engagement is the New Cocaine and The Starter's Guide to UNFUCK Your Twitter: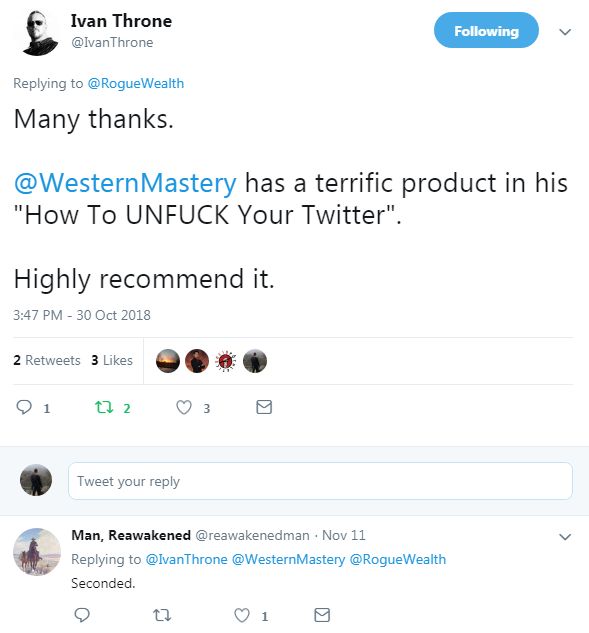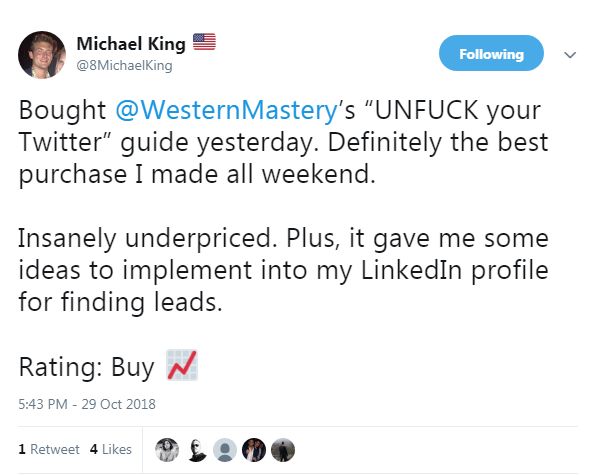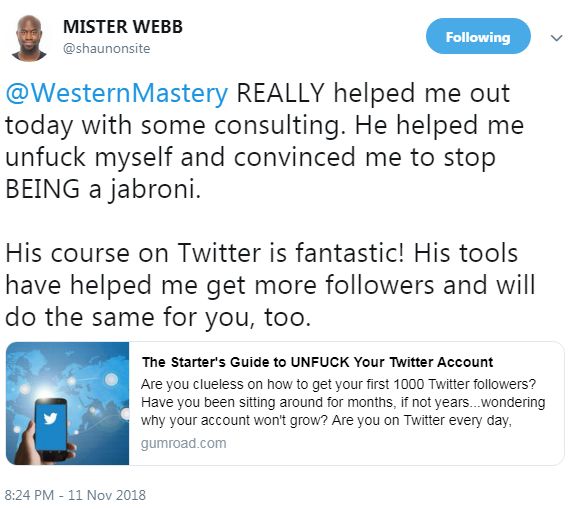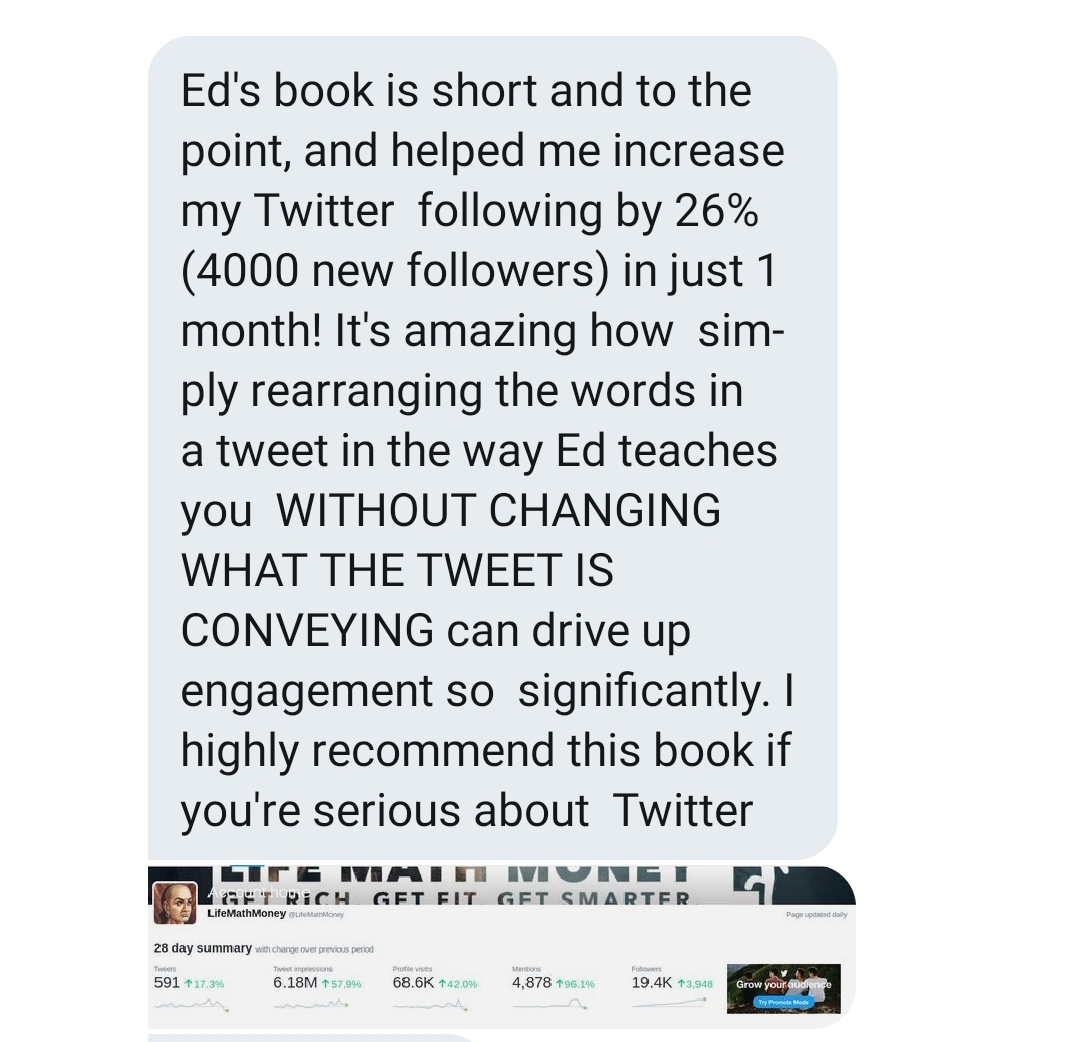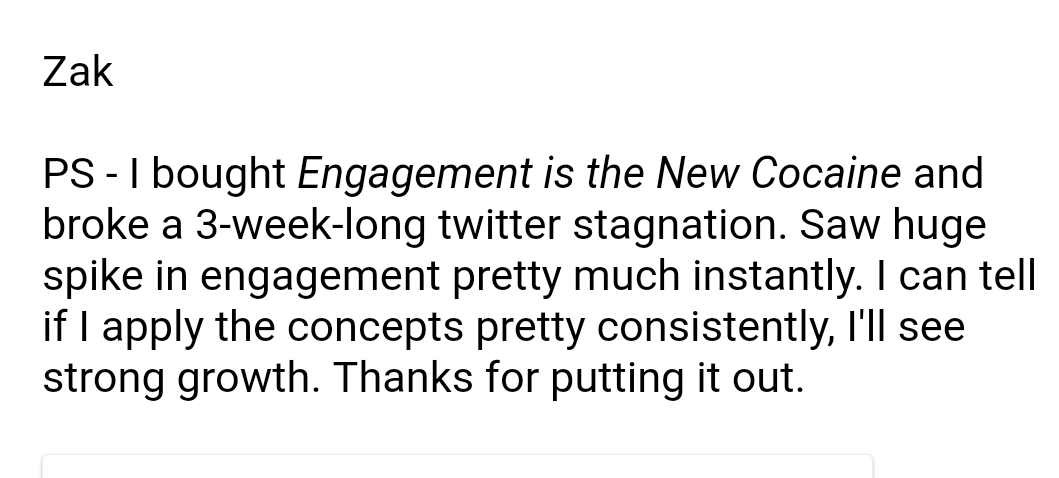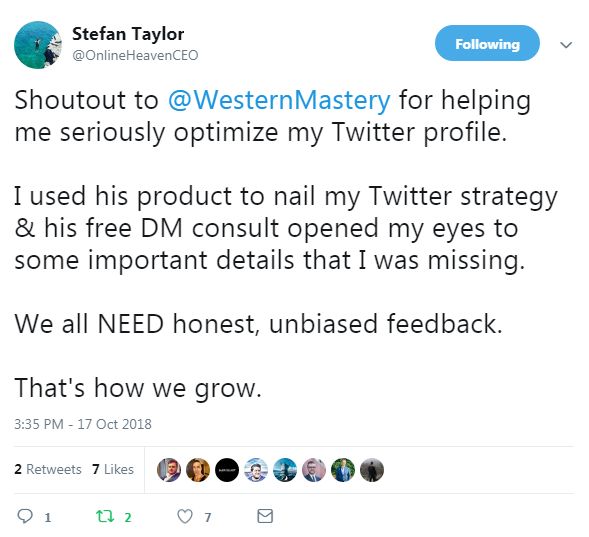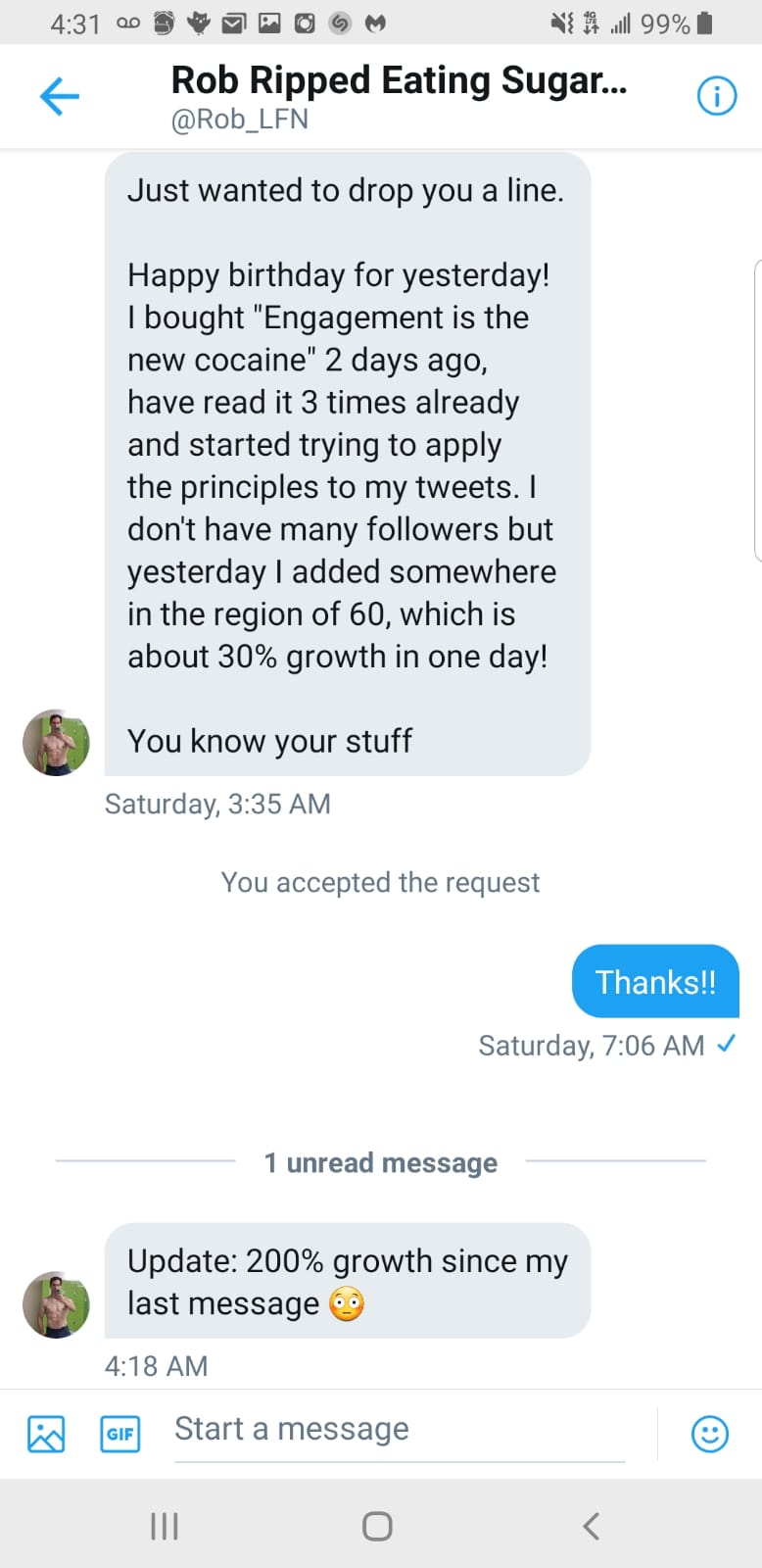 Are you curious if what's in the course is right for you?

We'll help you decide.
Here's a breakdown of the modules from our course and what they'll do for you.
Is Your Twitter The Shit Or Just Shitty? Understanding Twitter Analytics and Metrics ($197 Value)
Learn to use Twitter analytics and metrics to figure out where your account is stalled - so you can start growing much quicker.
You'll learn the difference between impressions and engagement and how they affect your growth on Twitter.
The Right Mindset For Twitter: Powerful Paradigm Shifts For Building A Massive, Loyal, and Engaged Following ($397 Value)
Learn from one of the most successful personal brands on all of Twitter, Ed Latimore, and his exact mindset and approach to get to 75k+ followers (and constantly growing) on the Twitter platform.
Learn how to avoid ALL of the mistakes that will hold you back from doing great things on Twitter. If you did nothing else but avoid making these mindset mistakes, your followers and bank account will grow!
This module will teach you the right mindset so you'll be able to use Twitter to make money and valuable connections to change your entire life!
Becoming A Twitter Drug Dealer: The Best Topics To Tweet About For High Engagement and Maximum Interaction ($397 Value)
Learn the best topics that accounts of any niche can tweet about and experience tremendous growth, leading to much more followers.
Learn the special techniques to create a mix of these ideas and topics to your tweets will make your account more popular than a dope man visiting rehab.
Learn not just good writing techniques - but the basics of GREAT writing techniques to have your account popping off like a crack house!
How to Tweet 1000+ times per month: The Not-So-Secret Method For Never Running Out of Shit to Say ($397 Value)

One of the biggest problems you'll probably face on this platform is that after a while, you have a hard time of what to say. In this module, you'll learn how Ed comes up with the inspiration and ideas to tweet over 1000 per month for over 2 years straight, so you can too.
This module will teach you everything you need to know to be prolific on this platform so that you can build a big following and make big money from it.
You'll learn where and how to look for inspiration, you'll never be without material again and you'll easily tweet enough to keep your growth going on the platform.
Personal Expression for Profit: Building a Personal Brand To Make Money ($997 Value)
Twitter will allow you to make money being yourself but ONLY if you understand how to use it to build a profitable personal brand. This lesson will teach how to position yourself to make money doing what you do best - being yourself.
Most people on the internet are doing the personal branding thing the wrong way - that's why their results are lackluster in both following and dollars. Learn the right way to do this so you don't waste energy, money, and most importantly, your time!
Pimping Your Profile For Profits: Designing A Profile That Converts Casual Followers Into Die-Hard Fans ($397 Value)
Your profile is the first thing people see, and you're probably doing something wrong. We're going to make sure you avoid that so you can grow as quickly as possible.
The difference between a good and a great profile comes down to doing a few little things different. This makes all the difference between gaining and losing followers. This is the difference between big success on the platform and never even gaining 1000 followers! Set it up wrong, and you won't convert people who casually check you out into die hard fans who follow your every word.
A Case Study on Accounts and Why They Were Successful ($97 Value)
Have you ever wondered exactly why some accounts grow and others don't? In this module, you will see exactly why successful accounts grew on this platform and how they make their money.
You'll also see a few examples of unsuccessful accounts and why they've failed - so you can ensure that you aren't making the same mistakes.
These examples will pull the mystery back on why others have been successful so you can learn from their examples.
Slick Styles For Super Engagement: 5 Stylistic Devices That Will Grow Your Followers, Influence, and Engagement ($297 Value)
This module will teach you the 5 most engaging styles to write your tweets to help you get big engagement and grow on this platform.
The stylistic devices you'll learn in this module will show you how to take what is commonly said and say it in a powerfully uncommon way.
Twitter is a platform built on writing - and your writing probably sucks. Most people's does. These stylistic devices will breathe life into your tweets and give people little choice but to follow you.
Formatting Techniques to Make Your Tweets Capture The Eyes and Hearts of Millions ($197 Value)
Learn how to format your tweets properly - the most under-utilized and under talked about Twitter skill that makes a huge difference in your impressions and followers.
Learn how to maximize engagement on your tweets with powerful formatting techniques.
This module will teach you how to format your tweets in a way that guarantees they always catch eyes on the timeline.
Learn how to properly present you engaging ideas so that anyone who sees it forced to stop, stare, interact, and engage.
How to Understand and Dominate Your Niche ($197 Value)

Learn the proven formula to grow within your niche and position yourself as an authority within it.
You'll also learn the growth and networking strategies to become a standout member of your niche so you can network, grow, and earn on Twitter.
How to Get From 0-1000 Followers as Quickly as Possible ($297 Value)

Growing from 0 to 1000 is the biggest challenge for most people starting off. In this module, you'll learn a proven method to get to 1000 followers on any account as quickly as possible - so you're not stuck at a tiny follower count forever.
This module also includes all the diagnostic steps and common mistakes that you're probably making - so you can avoid them and grow your account even quicker!
This is a PROVEN formula that has gained dozens of accounts thousands of followers each. All you need to do is follow it!
How to "Growth Hack" Your Account ($397 Value)

You'll learn all the useful tactics that have enabled accounts to get over 1000 followers every single month - that you can apply to your own account.
You'll also learn some techniques that can grow your following significantly quicker.
10k+ Followers and (More) Growth Hacking: How to Keep Your Follower Count and Engagement From Stalling Out ($497 Value)
Doing everything in this course will make your account grow fast, but there are things you can do to make your growth truly skyrocket. You'll learn the secrets Ed Latimore uses to consistently gain over 2000 followers per month.
No matter how many followers you have, you may fall victim to growth flatlining. Suddenly, you're not growing, or worse, losing followers. These techniques will supercharge your account and get you on the plus side of followers but allow you to make extra cash as well.
How to Destroy Your Negative Mindset and Dominate in Sales ($497 Value)
Many Twitter users are able to grow their accounts to 1000s or even 10000s but have no idea how to sell. That's where this module comes in.
Learn the essential mindset to stop being a soy boy when it comes to sales and become unafraid to charge your value and SELL for BIG BUCKS!
You'll learn both real-world and online sales skills that will ensure that you make more money from sales for the rest of your life.
How to Make Real Money From Your Twitter Account ($497 Value)
Most people go wrong with selling on Twitter because they have no idea what they can sell.
In this module, you'll learn all of the different types of products that you can sell on Twitter so you don't have to have that problem - and can start making money from your account very early on in the process!
How to Make Buckets of Cash From Your Twitter Timeline ($997 Value)
In this module you'll the methods to sell from your timeline to maximize your sales specifically on the Twitter platform.

You'll learn various methods that the best users use to maximize their sales from the Twitter platform.
How to Make a Full Time Income From ONE Skill on Twitter ($1997 Value)
You will learn a PROVEN method to make a full time income (or more!) from just ONE skill on Twitter - that many successful influencers on the platform follow to make a living for what they do.
Even if you have no skills that you can sell (or if you think you don't), you will learn the "high income" skills that you can use to make a full time income online and from your Twitter account.
This is a massively valuable section that alone is worth more than most college degrees!
How to Create Your First Profitable Digital Product to Sell From Twitter ($997 Value)
You're going to learn how to make your OWN profitable product to sell on Twitter.
You'll see the common mistakes most people make making their own product, so you can avoid them and sell profitably right from the start!
Even if you've already made a product that isn't selling, this section includes diagnostic steps to make sure your digital product makes sales!
How to Build a Highly Profitable Email List from Twitter ($997 Value)

Learn all the sauce to build a profitable email list that will sell for you long term from Twitter.

You will learn how to write great emails that sell like crazy and grow your list as large as possible from your account!
How to Master Affiliate Marketing ($497 Value)

For many, affiliate marketing is the easiest way to make money online because you only need the audience - you don't need the product.
We're going to teach you a straight forward way to get your first affiliate sales on the Twitter platform so you can build confidence selling and make money for your following.
And even if you're experienced, you'll learn some of the highest level tactics utilized on the platform to greatly improve your current sales from affiliate products.
BONUS: How to build a 7-figure Business Network on Twitter ($997 Value)
This is a BONUS guest module by Shadeed Eleazer, a serial entrepreneur, Judo brown belt, and coach to politicians and high performance entrepreneurs.
He will teach you a proven method to form a powerful business network that you can develop on Twitter and in the real world.
Following the steps within this module will easily make you better at networking than 95% of your competition - and give you profitable and personal relationships that will last until the day you die.
BONUS: Access to the Twitter PIMPS Student Group ($1997 Value)

Unlike cheaper online courses, you are not going to be left alone in our course!
You will have access to a student group where you can grow, network, and ask questions from your instructors - so we can ensure you're not making mistakes and you can maximize your growth and profits on this platform!
This section alone will connect you to tons of students who want to do exactly what you're doing.
BONUS: Personal Branding Conference With Ed Latimore ($397 Value)
Get previously closed off access to a recent Personal Branding Conference with Ed Latimore, where drops high powered knowledge on personal branding that you will find nowhere else.
Total Value: $14,631

Your Price: Only $497

As you can see above, this is the most comprehensive and valuable course on Twitter ever created.

And we are only charging a fraction of the total value of this course.

So if you're ready to stop screwing around on this platform and start building the REAL way, you have everything you need in this course.
Because if you use and APPLY the information here, you will not only turn you into a phenom on Twitter...
But you will also learn high level networking, sales, business skills that you can use for the rest of your life.
Skills that will never go away.
Skills that, if you use them the way we teach you, will earn you a lot more money over the course of your lifetime.
And, if leveraged properly, will give you the money and freedom to do whatever you want.
Living anywhere in the world making a full-time income and a lot more, like many do off the Twitter platform.
That is why we're extremely confident that the price we ask is only a fraction of what our course is worth.
So if you're ready - you know what to do.

Click "Enroll in Course" Now to get started!
Course Curriculum
Intro
Available in days
days after you enroll
Mastering the Basics of the Twitter Platform
Available in days
days after you enroll
How to Create Your Profile
Available in days
days after you enroll
Frequently Asked Questions
When does the course start and finish?
The course starts now and never ends! This is a completely self-paced online course - you decide when you start and when you finish.
How long do I have access to the course?
After enrolling, you have unlimited access to this course for as long as you like - across all devices you own. The student group is also open to you as long as you follow the rules.
What if I am unhappy with the course?
If you aren't happy with our course, contact us in the first 30 days with the exact steps that you took to improve your account - plus the results that you got. If we can't fix your issues and you still aren't happy, we will give you a full refund on your purchase.
How do I know this will work for me - even if nothing else has?
This course is ideal for you if you want to learn how to use Twitter for personal or business use and are smart and motivated enough to apply the contents and put them to use. All of the information you need to succeed with the platform is in here - EVEN if you're starting from scratch or feel like you have no knowledge or skills to sell. We make it as easy and simple as possible for you. This course is not for you if you are unmotivated and just like to mentally masturbate to information! We only want students who are ready to use the resources and get to work!
Why is the course so expensive?
We know it's a large asking price up front for most people, but we know that it's very inexpensive compared to the value of the information within this course. Quite simply, the value is worth many, MANY times the asking price. We're also confident in charging what may be a higher price to some people, because we KNOW that it works. Our student testimonials from our previous products prove this. There are cheaper resources you can learn about Twitter - but they are priced that way for a reason! The real question is - do you want to take the cheapest route you possibly can or do you want to pay more money to get the best resource out there and achieve the absolute best results?
What if I have absolutely no idea how to use Twitter?
No worries. This course goes A-Z through Twitter - how to create your profile, grow your account to thousands of followers or more, how to sell your products or services, how to build a massively valuable network, and much more. Even if you have little idea how to use Twitter, this course will teach you!
Can this course be used to increase my business revenue?
Absolutely. If you already have a business with at least one proven product or offer, you have a huge advantage from the start. Many customers of our previous products were able to increase their business revenue within just a few weeks of using the Twitter platform since it drives traffic to their businesses. And aside from just growth, this course will teach you proven methods to generate income from your Twitter account, either from your personal brand or an existing or soon-to-be-built business.
Do I really need this course to learn how to use Twitter?
No, you don't. However, this course has the insights of two of the biggest names on self-improvement Twitter gained over a combined 8+ years on the platform. If you're serious about mastering the Twitter platform, you have to ask yourself if it's worth your time to try to save a few hundred dollars compared to the immense advantage you'll gain from buying and using the most complete program you'll ever find on the subject!
What kind of results can I expect?
Results depend on you as a student. We've seen students of our last programs consistently gain over 1000 followers a month by following our results and being consistent on the platform. We've also seen students monetize their followings and make thousands of dollars a month as a result, just to start. This is not guaranteed, but if you take the effort to apply the information in the course and work with us in the student group, you have an excellent chance of seeing similar results.
Is this a get rich quick/pyramid scheme/some other bullshit?
This is none of those things. The beauty of our methods is that you build a life-long list and relationships that can absolutely earn you a lot of money in the medium to long term. That said, if you have a sellable skill or a pre-existing business, you can grow your account and earn more revenue very quickly from the info we have in this course. And even if you don't, we're going to teach you the high-income skills, with resources, that you can use to sell and make money from forever.
Do you have any affiliation with Twitter?
We have no affiliation with the Twitter brand. We are two users of the platform who figured out a way to get the most out of the platform and want you to do the same.
What's the difference between Twitter PIMPS and the Starter's Guide to UNFUCK Your Twitter/Engagement is the New Cocaine?
The Starter's Guide teaches you the basics of how to grow your account, how to build an email list, etc, and Engagement is the New Cocaine will teach you to maximize your engagement on the Twitter platform. But if you're serious about maximizing your growth, sales, and personal brand on Twitter, Twitter PIMPs is by FAR the better option. It has extensive sections on how to create and sell your own products/services, maximize your growth in both the short and long term, squeeze out every possible sale from Twitter, email and affiliate marketing, build a 7+ figure business network on the platform, and a LOT more. And perhaps most importantly you'll have access to a network of hungry winners helping each other grow and learn, and both Sean Luger and Ed Latimore. We're in the group every day to make sure everyone is growing and to help them create and sell their products/services on Twitter. The value proposition behind all of this is on an entirely different level. So simply put, if you want the best results, Twitter PIMPS is what you want.